Organic Turmeric Extract with Black Pepper
$24.95
Using Raw Herbal Extract™ Technology, Organic Turmeric Extract gives you direct access to potent antioxidants known as curcuminoids. Curcuminoids nutritionally support the cardiovascular system, colon, liver, prostate, and more.  Ingredients include organic turmeric root (curcuma longa root), organic black pepper extract (for maximum absorption), USP certified organic vegetable glycerin, triple purified water and energized trace minerals.† 2 fluid oz   †Results may vary.
Organic Liquid Turmeric Extract with Black Pepper
 Produced using Raw Herbal Extract™ with Trace Minerals™ Technology
Turmeric contains antioxidants, vitamins, and nutrients that are linked to over 600 potential health benefits. It's a source of powerful nutrients that encourage normal joint function, cardiovascular health, colon health, brain function, liver health, and even prostate health. No other spice is as beneficial as turmeric!
A Different Kind of Organic Liquid Turmeric Supplement
After 10 years of research, innovation, a new Raw Herbal Extract technology which follows the principle of separating and recombining all the elements of an herb, to produce the most powerful essence of its healing nature is being used to create Organic Liquid Turmeric Extract with black pepper.
Using The Whole Plant.
Energized Trace Minerals resonate with an energy you can only find in nature. While essential micronutrients are lost or destroyed in other extraction methods, we use a proprietary process that captures this energy. The natural cofactors and conutrients, along with over 80 trace minerals, provide the full spectrum of nutrition responsible for turmeric's health benefits.
More Concentrated.
Thanks to our revolutionary Raw Herbal Extract™ Technology, our turmeric is more concentrated than most other leading brands. This proprietary technology gives you direct access to more powerful antioxidants like curcuminoids.
More Antioxidants.
Curcuminoids are natural antioxidants that are 5-8x stronger than vitamin C and E and 3x more powerful than grape seed extract. They provide incredible antioxidant action that encourages cellular health, fights free radicals, and promotes longevity.
No toxic fillers.
Inferior turmeric supplements often are sold with only profit in mind. This means they will use anything to cut costs and increase inventory. Too often, this is done by using toxic fillers that rip people off and make them sick.
No artificial colors.
When you use cheap non-organic turmeric, the color can be dull and boring. To trick the consumer, some manufacturers will use artificial coloring to hide impurities.
All Natural Formula.
Absolutely and entirely natural. The only ingredients are organic turmeric root, organic black pepper, USP certified organic vegetable glycerin, triple purified water and energized trace minerals!
Unbeatable Value.
Each bottle offers 48 servings of the highest quality turmeric extract you'll find anywhere.
Our Pure Earth Promise
Only the best organic turmeric root available is used in Organic Turmeric Extract with Black Pepper. You may notice slight variations in each bottle of our turmeric. While other companies use chemicals and dyes to hide the naturally occurring variations, we proudly embrace them. Variations in taste, smell, and color in our products serve as a proud reminder of the ingredients natural authenticity.
Guaranteed Purity, Potency, and Safety
Our turmeric is produced in accordance with Good Manufacturing Practices (GMP) to ensure quality and purity. Your satisfaction is 100% guaranteed with our generous 30 day No Questions Asked return policy.
What are the Health Benefits of Turmeric?
Nutritionally supports a balanced mood.
Excellent for digestive health.
Eases systemic redness and swelling.
Supports brain function.
Encourages heart and cardiovascular health.
Pre-clinical studies suggest turmeric may positively influence bone and joint health.
Some research suggests turmeric promotes normal prostate health.
Why is this the Best Turmeric Supplement Available?
From ingredient production to final packaging, quality and care has been exercised.
Made in the USA from globally sourced ingredients and produced in accordance with Good Manufacturing Practices (GMP).
Super strength at an incredible value, each 2 fluid oz. bottle offers 48 servings.
Suspended in a gentle, vegetable glycerin base. No harsh alcohol.
Satisfaction guaranteed — we promise you'll love Organic Tumeric Extract, or your money back.
What are the Top Three Questions People Ask About Turmeric?
1. What makes this the best turmeric extract?
We use only the best organic turmeric root and the Raw Herbal Extract technology produces the most complete extract possible. We then blend it with black pepper extract containing piperine for maximum absorption. This product will satisfy even the most discerning individuals who demand quality and value. Don't fall prey to other supplements that contain fillers, preservatives, and toxic compounds. Our money back guarantee lets you know that this turmeric extract is formulated for purity and potency!
2. What makes turmeric so beneficial?
Turmeric has long been a core component of Ayurveda. Modern research has caught up with traditional use and confirmed the benefits of turmeric for promoting joint health and fighting systemic redness and irritation through its curcuminoids and potent antioxidant action.
3. Is Organic Turmeric Extract all natural?
Yes! We use only the highest quality organic turmeric! It's suspended in a gentle and safe vegetable glycerin base, no alcohol, fillers, or unwanted additives!
†Results may vary.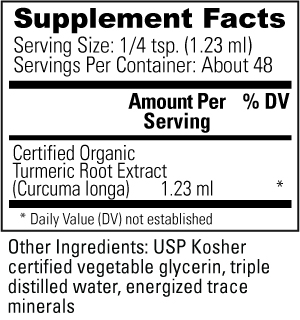 Ingredients
Liquid Extract of Certified Organic Turmeric Root (Curcuma Longa)
As one of nature's most health-promoting herbs, turmeric is loaded with antioxidants in the form of curcuminoids and encourages brain, liver, joint, cardiovascular, and digestive health.
Organic Black Pepper (Piper nigrum)
Black pepper contains piperine, an alkaloid which promotes the absorption and bioavailability of turmeric.
Other Ingredients
USP Certified Organic Vegetable Glycerin
More gentle and stable than alcohol, USP certified organic vegetable glycerin is the ideal base for Raw Herbal Extract formulations.
Triple Distilled Water
Triple distilled water water is one of the best neutral carriers. It's effective, gentle, and, unlike alcohol, appropriate for everyone.
Energized Trace Minerals
Comprised of alkaline-rich mineral salts, Energized Trace Minerals provide the structural foundation necessary for the liquid formula to capture the full synergy of the plant material.
† Results may vary.
Suggested Use
Take ¼ teaspoon (approximately 2 droppers) in the morning and again in the evening, or as directed by your healthcare provider.
Warning
Keep out of reach of children.
Consult your healthcare provider before taking if you are pregnant or nursing, or have any other medical concerns.
†Results may vary.
Frequently Asked Questions
Q: How long will a bottle last?
A: Each bottle offers 48 servings. When used as directed (two servings per day), one bottle will last 24 days.
Q: What does turmeric liquid turmeric extract taste like?
A: It's light and sweet with a hint of turmeric flavor. The taste is very gentle, it is not spicy or overpowering.
Q: How should I store this product?
A: Turmeric can be stored at room temperature but many people do refrigerate the bottle they are currently using.
†Results may vary.